Breedership
​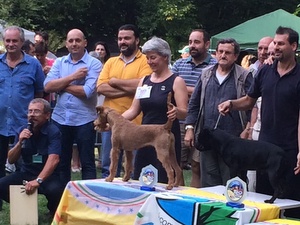 Anne Tureen
Born in the USA (Saint Louis, Missouri) Anne manges her kennel from her home in Reggello (Firenze). The foundation bitch was imported from Susan Seabridge's Sujoncla kennel in Lincoln, UK (2008). The exceptional type and temperament of this bitch established a deep bond with this breed and her excellent conformation brought satisfaction in the show ring.
The kennel name 'Tuscan Red' was granted in 2013, uniting the typical red wine of the territory to the red dogs. Each puppy is named after a different red wine from Tuscany. Anne qualified as an ENCI training instructor in 2014 and became a specialist breeder member of the ENCI kennel club in 2015. In 2019 she became an FCI breed judge of the Irish Terrier. Anne has published articles and translations for the SIT Terrier bulletin. Numerous articles and two regular columns have been published by Best in Show Magazine, a breed article was included in I Nostri Cani, ENCI (Nov 2018), and the publishing House Antonio Crepaldi has presented the book 'Handling the Ins and Outs' in both English and Italian.

I earned my kennel prefix 'Tuscan Red' in 2013. Uniting my love for the 'Red' Terriers born in our home in Tuscany with that of the native red wine, I name each puppy after a Tuscan red wine. I qualified as an ENCI certified dog trainer in 2014, and In 2015 I was granted the status of breeder member of the Italian Kennel Club (ENCI).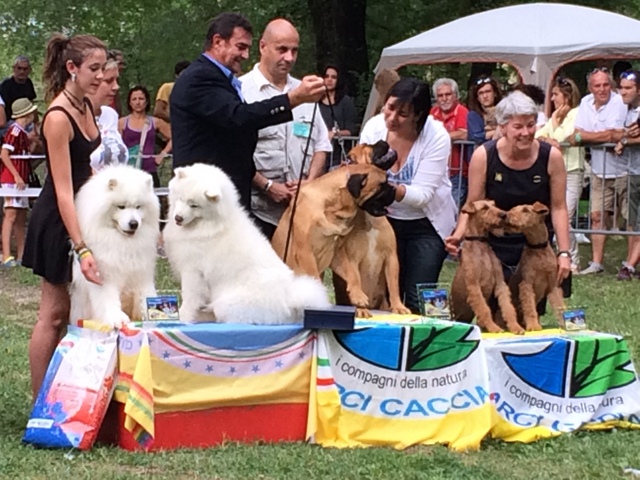 Some of our titles:
IT CH Sujoncla Ghost Dance (Import)
IT CH, Club CH, Int CH Sassicaia
IT CH, Club CH, Int CH Tuscan Red Amor Costante
IT CH, Club CH, Int CH Masseto and Top Dog 2015 (owner Esteranne Ricca)
IT CH, Club CH Ai'Meè Vom Obertsen Holtz (Import)
Jr CH, IT CH, Jr EW, Club CH, Tuscan Red Elzana and Top Dog 2016
Jr CH Tuscan Red Fontalloro and Crufts class winner
Jr CH Tuscan Red Fuligni (owner Luca Trivellato)
Jr CH, IT CH, Int CH Tuscan Red Fonterutoli and Top Dog 2017 (owner Marta Mieli)
IT CH, Int CH, Club CH Incontri and Jr Top Dog 2019 (owner Silvia Costa)
Jr CH, IT CH, Geordan Principia and Top Dog 2019 (Import)
Our objectives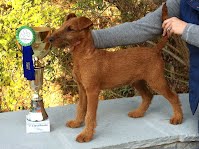 To show with a view towards establishing the quality of our breeding through the SIT and ENCI organizations and similar Internationally recognized associations.
To maintain connections with serious breeders and other canine professionals in order to broaden our knowledge of the breed, the sport, and reproduction, and to keep abreast of pertinent issues facing the breed.
To cultivate sportsmanship and support a competitive environment through sharing of knowledge, encouragement, as well as practical help to import quality dogs to the Italian peninsula.
To breed only when we have an excellent chance of producing puppies that are closer to the standard than the generation before. To place our puppies in homes that will share a lifetime of love, health, and companionship.