Puppies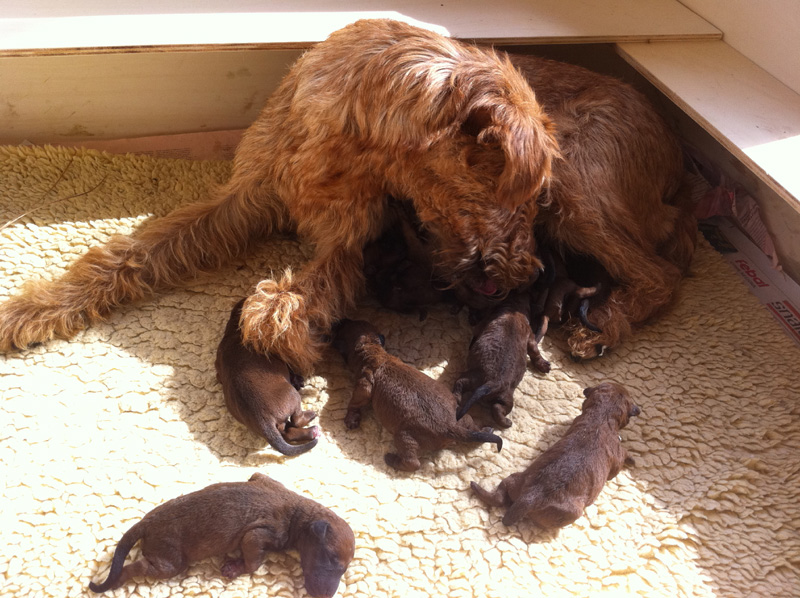 Le Lastre will breed only after careful planning with a view to creating a line of Irish terriers in conformation to the Breed standard. Therefore puppies are available only occasionally. We breed for type, health and temperament as well as structural soundness. Though our objective is a show quality litter, enquiries from individuals looking for a 'family dog' are most welcome.
Puppies will be released after 9 weeks, with experience sleeping alone in a crate overnight, and going outside to eliminate. They will be fully socialized and 'soundproofed', will have ridden in the car, and experienced various environments. Vaccinations will be current and paperwork complete for the ASL and ENCI.
Young Dog
Occasionally our breedership will have a young dog available. We might keep more than one puppy from certain litters, andafter 6-10 moths, we have a handsome trained pup ready to be adopted. Moreover, we can have a two year old who has already completed the FCI championship with us, who is ready to make a wonderful companion for someone looking for a beautiful dog, already trained.

Lifetime Guarantee

Anyone taking home one of our puppies is part of our breedership, and may contact us for advice or information concerning their dog throughout the years. All dogs bred here will find a home at Tuscan Red at any time during their lifespan, no questions asked.